Bob Free - Press Releases
---
ZoomInfo Press Clippings
---
OpenGL - Web Release - October 2007 Appscio Inc., a starup funded by Red Rock Ventures and ArrowPath Venture Partners, announces Bob Free as their new Chief Technology Officer.
---
OpenGL - Headline News - March 2007 Bob Free of Graphcomp releases Perl OpenGL 0.55 with support for 52 new OpenGL extensions.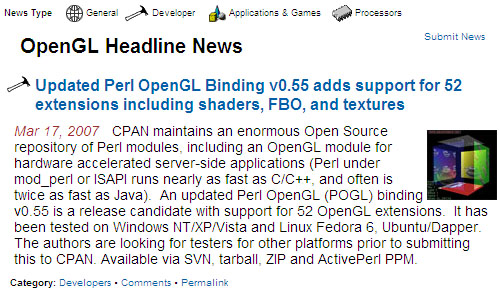 ---
Club Photo - Press Release - December 2000 Club Photo Appoints Two New Executives To Enhance Online Photo Sharing and Photo Finishing Landscape Robert Free Heads Software Development; Richard Park Leads Marketing Team SAN JOSE, Calif.—December 20, 2000— Club Photo™, Inc. ., www.clubphoto.com, providing consumers with the online photo processing and sharing services to stay connected with loved ones, today announced that two new executives have joined the team. Robert Free is Vice President of Engineering and Richard Park is Director of Product Marketing. Both report directly to Club Photo President and CEO Andrew Wei. Free will be responsible for all engineering efforts and will lead the development of leading Internet and software photo sharing and finishing solutions. Park's responsibility will be to help drive the development and delivery of strategic product plans and associated launches, as well as marketing programs for all product lines. Free brings to Club Photo more than 27 years of experience in 2D/3D multimedia imaging. Prior to joining Club Photo, Free held the position of Vice President of Engineering and Production at PhotoLoft (formerly Alta Vista Technology, Inc.). Free also managed the growth, merger or reorganization of several software organizations, including ISDCorp and Live Picture. He also founded GraphComp and Grafman Productions, providing software and graphics development services to Fortune 500 companies. "The Club Photo team has created an entirely new model for consumer and professional Internet sharing and finishing," said Free. "Together, we will create leading Internet and software technology to help define and drive the future of photography."
---
Digital Photography - News Summary - May 1999 PhotoLoft announces appointment! Online photo sharing company PhotoLoft.com has announced the appointment of a new Vice President of Engineering, in an email we received from them yesterday. Robert Free joins the company from Integrated Software and Devices Corp., where he was Director of Engineering of the Graphics Software Group. Prior to this, Free was architect, engineering manager and an award-winning designer for 3D Web Products at Live Picture. Free replaces Co-founder and Vice President Chris McConn, who has been named Chief Technology Officer.
---
Photoloft - Web Release - May 1999 Bob Free — Vice President, Production and Engineering Brings over 26 years of software design experience, including web and multimedia development expertise to PhotoLoft. During his career he was architect, engineering manager and an award-winning designer for 3D Web Products at Live Picture, the company that pioneered the revolutionary FlashPix image format. PhotoLoft is one of the first companies to bring the benefits of FlashPix to Internet consumers. Mr. Free's most recent experience was in senior management with Integrated Software & Devices (ISDCorp), where he was director of engineering for the company's Graphics Software Group, a division acquired from Cirrus Logic.

In 1982 Mr. Free founded GraphComp and was CEO for the company, which provided software development consulting to Fortune 500 companies. He also founded Grafman Productions as a GraphComp subsidiary providing corporate graphics, Internet site management and Web content. Other experiences include leading technical roles with McDonnell Douglas, Novell, and NetManage.